I'm busted!
Amost forgot... on the way out from Pat's last night, he mentioned he'd heard that the Students of the Unusual website was seeing some new traffic... from blahgkarma! Now this is interesting for two reasons - one, because some of you reading here actually took the time to click over to see what these guys are up to (thanks for that), and two because nobody I know except for Harry Pierson knows I'm blogging. Guess I'm busted...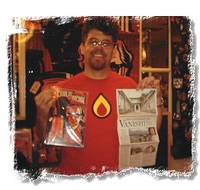 Terry Cronin, Headmaster
Students of the Unusual


Here's a new interview with Terry Cronin in Ghost Magazine. One of 3 Boys Productions' projects was a documentary called "Ghost Hunters of the Space Coast", and the article centered on it. Here's a blurb from the article:


During a recent jaunt to Spooky Empire's Scream Fest
in Plantation Florida, Ghost Magazine had the distinct
opportunity to chat with haunt advocate, Terry Cronin.

While proudly promoting his newest project, Students
of the Unusual (a fiendishly fun comic featuring a collection
of spooky vignettes), Cronin took time from his duties to tell
GM about his recent efforts in Melbourne Florida: the short
film (featured at the 2000 Melbourne Independent Film
Festival), Ghost Hunters of the Space Coast.

He describes the film, produced by 3 Boys Productions, as,
"A documentary where the most haunted places in Brevard
were visited; it features people who have been visited by
ghosts and had ghostly experiences."

If producing a short film about the Space Coast's most
haunted sites isn't remarkable on its own, the piece is fast
becoming a history lesson. Two of the three historic
restaurants featured have since been demolished and the
third is also threatened with extinction!
Its cool to see folks you know doing what they love, and even cooler seeing them recognized for it. I'm inspired! I think there's a new edition of the comic coming soon... I'm watching for it.