Better Tail Than Ever...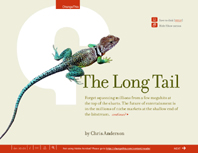 Better Tail Than Ever!

After posting below on Wired editor-in-chief Chris Anderson's article The Long Tail I browsed around a bit and found two interesting tidbits. One, the piece is available in PDF as a Manifesto here on ChangeThis. Two, Chris Anderson has a blog called - what else - The Long Tail. Too bad he doesn't support TrackBack - I'd link to him.

Seems he has a book deal, too. Good for him. I think The Long Tail is a subject we'll be hearing much more about in the coming months and years... makes complete sense to me.

One of the things I love about the Web. You take an idea, punch a few words into your browser and - poof! Lots of stuff, some of it even relevant...