I Donated $25...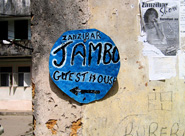 Escape To Zanzibar...


OK, I'm getting addicted to the Escape Travel Album, if that's even what its called (page titles on the site variously say "escape > route" or "escape : route".

One of the features is "download a picture", and when you do this a structured e-mail goes to someone named Henry Dawson, who apparently manually posts the high res original and an enhanced copy for you (manually?). There's a comment about accepting donations via PayPal. I'm not associated with these folks or the site in any way, but I was so impressed by the work, I sent 25 bucks.

Maybe I'm living a sheltered life, but I've never seen anything like this before on the web. I like Picassa's 3D timeline feature, but this site goes so far beyond that. Very innovative.

Henry Dawson, whoever you are, if you're the creator of this, you've done some amazing work.